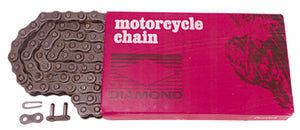 REAR CHAIN FOR ALL HARLEY DAVIDSON MODELS
WEIGHT: 19.09
ALL TYPES OF DIAMOND CHAIN MEET ISO 9001 CERTIFICATION WHICH SETS THE STANDARD FOR QUALITY IN THE CHAIN INDUSTRY. ALL PACKAGE OF CHAINS INCLUDE CONNECTING (MASTER) LINK.
530 STD (STANDARD HIGH SPEED)- DIAMOND'S STANDARD HIGH SPEED MOTORCYCLE CHAINS HAVE BEEN CONTINUALLY UPGRADED , KEEPING THEM IN STEP WITH THE DRIVE DEMANDS OF TODAY'S MOTORCYCLES. THIS INCLUDES RAW MATERIAL SELECTION , IMPROVED HEAT TRATING METHODS , AND INNOVATIVE MANUFACTURING AND ASSEMBLY TECHNIQUES WHICH ARE PATENED BY DIAMOND.
530 XLO (EXTRA STRENGTH O RING)- DIAMOND'S TOP OF THE LINE ROLLER CHAIN. A TENSILE STRENGTH OF 9300 POUNDS GIVES EXTRA PROTECTION AGAINST BREAKAGE AND DELIVERS , ON AVERAGE , FOUR TIMES THE SERVICE LIFE OF REGULAR CHAIN. THE O RING INTERNAL LUBRICATION SYSTEM KEEPS TEH CHAIN PROPERLY LUBRICATED AND PREVENTS PREMATURE ELONGATION BY SEALING LUBRICANTS IN AND CONTAMINANTS OUT.
530 XDL (EXTRA STRENGTH SELF LUBE)- DIAMOND'S PERFORMANCE PROVEN CHAIN COMBINES THICKER LINK PLATES , A HIGH CAPACITY MODIFIED PRESS FIT COVERSIDE WITH CONSTANT LUBRICATION IN THE PIN BUSHING AREA TO DELIVER HIGHER STRENGTH WHILE REQUIRING FEWER ADJUSTMENTS AND LESS MAINTENANCE.
530 ENP (NICKEL PLATED)- DIAMOND'S LONGEVITY , ANTI-CORROSION AND RUST PREVENTION IS ACCOMPLISHED BY USING NICKEL PLATING ON ALL THE PARTS OF THIS CHAIN DESIGN. QUALITIES THAT DELIVER ADDED SERVICE LIFE.
480 PITCHES. STD. SOLD IN 25 FOOT ROLL.
BY: DIAMOND CHAIN CO