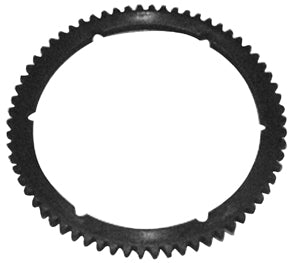 CLUTCH BASKET WITH COMPETITOR CLUTCH FOR HARLEY DAVIDSON BIG TWIN
WEIGHT: 1.60
DESIGNED TO UPGRADE YOUR ENTIRE CLUTCH ASSEMBLY. BELT DRIVES LIMITED (BDL) HAS ADDED THEIR COMPETITOR CLUTCH TO THEIR NEWLY ENGINEERED CLUTCH BASKET. WITH ITS KEVLAR CLUTCH PLATES THIS HEAVY DUTY ASSEMBLY OFFERS APPROXIMATELY 60% MORE SURFACE AREA THAN OE. THESE FEATURE A LARGE 35MM HUB BEARING AND 9 SHOULDER BOLTS AND SPRINGS FOR ACCURATE SPRING TENSION. BASKETS INCLUDE A 36 TOOTH SPROCKET. IF YOU HAVE THE POWER...WE HAVE THE CLUTCH.
BELT DRIVES LTD.
STARTER RING GEAR FOR
73320
&
73402
FITS ALL BDL BELT DRIVES , BIG TWIN 1985/1993. 6
7
/
8
" I.D.
BY: BELT DRIVES LTD