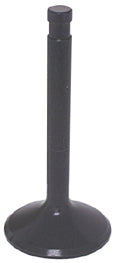 BLACK DIAMOND VALVES FOR HARLEY DAVIDSON BIG TWIN & SPORTSTER
WEIGHT: 0.23
ALL PRECISION MACHINING , INC. ONE PIECE STAINLESS STEEL VALVES ARE IMPREGNATED BY A SPECIAL GERMAN PROCESS (NITRONEG) .002" DEEP & .0002" SURFACE BUILD UP TO IMPROVE WEAR PROPERTIES AND REDUCE FRICTION. THIS PROCESS PROVIDES RESISTANCE TO CORROSION AND WEAR SUPERIOR TO THAT DEVELOPED BY HARD CHROMIUM AND ELECTROLESS NICKEL PLATING. THESE VALVES ARE LIGHT , AND THE PROFILES PROVIDE EXCELLENT FLOW CHARACTERISTICS AND ARE STELLITE TIPPED. SOLD EACH.
KIBBLEWHITE
INTAKE TYPE VALVE
HEAD DIAMETER: STD 1.950"
STEM DIAMETER: .3765"
OVERALL LENGTH: STD 3.885"
FITS SHOVELHEAD 1966/1984
REPLACES HD# 18074-66 & 18075-81
BY: KIBBLEWHITE PRECISION MACHINE