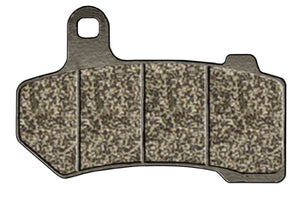 OE STYLE BRAKE PADS FOR HARLEY DAVIDSON BIG TWIN & SPORTSTER
WEIGHT: 0.49
WE OFFER THREE TYPES OF BRAKE PADS:
SBS - HIGH LEVEL TECHNOLOGY AND EXPERIENCE GAINED THROUGH WORKING WITH ALL TYPES OF BRAKE SYSTEMS PRODUCES THESE ASBESTOS FREE DISC BRAKE PADS.
HAWK PERFORMANCE - BRAKE PADS OFFER WORLD-CLASS BRAKING PERFORMANCE FOR HEAVY BIKES. THIS PRODUCT LINE COMBINES THE QUALITY AND FITMENT OF ORIGINAL EQUIPMENT WITH UNSURPASSED STOPPING POWER AND QUIET BRAKING PERFORMANCE.
V-FACTOR - NON-ASBESTOS BRAKE PADS ARE MANUFACTURED FROM HIGH GRADE KEVLAR/METALLIC COMPOUND THAT IS TOP OF THE LINE AND ENVIRONMENTALLY SAFE. SUPER STOPPING POWER. CLEAN , QUITE AND EASY ON ROTORS.

V-FACTOR
REAR DISC PAD PAIR
FITS FLT , FLHT , FLHR & FLTR 208/LATER
REPLACES HD# 41852-08