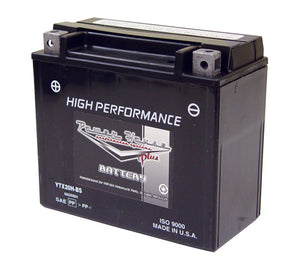 POWER HOUSE PLUS MAINTENANCE FREE BATTERIES FOR 12 VOLT MODELS
WEIGHT: 11.07
MAINTENANCE FREE DESIGN ELIMINATES THE NEED TO EVER ADD WATER TO THE BATTERY
SEALED ENCLOSURE ALLOWS MOUNTING THE BATTERY IN ANY POSITION (EXCEPT UPSIDE-DOWN)
TO HELP IMPROVE VIBRATION RESISTANCE , THE BATTERY ACID IS ABSORBED BETWEEN THE PLATES WITH FINE MICROFIBER GLASS MATS (AGM)
INTERNAL GAS PRESSURE IS VALVE REGULATED TO PREVENT ANY WATER LOSS (VRLA)
AGM & VRLA COMBINED WITH LEAD-CALCIUM GRID PLATES PROVIDE MORE COLD CRANKING AMPS THAN LEAD ACID TYPE BATTERIES WITH UP TO THREE TIMES THE LIFE SPAN
INCLUDES A SULFATION RETARDANT THAT DRAMATICALLY REDUCES THE BATTERY KILLING PLATE SULFATION THAT IS COMMONLY ASSOCIATED WITH CONVENTIONAL BATTERIES
EXTREMELY SLOW RATE OF SELF-DISCHARGE WHEN NOT IN USE , BUT MUST BE SLOW CHARGED AT LEAST EVERY THREE MONTHS IF NOT IN SERVICE
INCLUDES CABLE MOUNTING HARDWARE
* INCLUDES MOUNTING KIT WITH TERMINAL COVER AND PLASTIC BUMPERS
IMPORTANT NOTE:
THESE BATTERIES INCLUDE A SEPARATE BATTERY ACID PACK AND MUST BE USED TO FILL THE BATTERY BEFORE USE (EXCEPT
10023
AND
10049
, THESE COME PRE-FILLED AND CHARGED). THE METERED ACID PACK DELIVERS THE PRECISE AMOUNT IN A SAFE AND CONTROLLED MANNER. FILLING AND CHARGING INSTRUCTIONS ARE INCLUDED.
NOTE:
BATTERY WARRANTY IS BASED ON A SIX MONTH PRO-RATED POLICY. SIX MONTH BATTERY WARRANTY STARTS WHENEVER THE DEALER FILLS THE BATTERY WITH ACID AND SLOW CHARGES IT TO A RANGE OF 12.8 THROUGH 13.2 VOLTS. PLEASE CALL YOUR SALESPERSON FOR DETAILS.
NOT SHIPPABLE BY AIR
POWER HOUSE PLUS
200 COLD CRANKING AMPS , 12 AMP HOURS
6" LONG X 3
7
/
16
" WIDE X 5
3
/
4
" TALL
FITS VRSC V-ROD 2002/LATER
TERMINAL LOCATION: + ON LH , - ON RH
REPLACES HD# 65948-00
MFG# YTX14-BS
BY: YUASA EXIDE BATTERY CORP